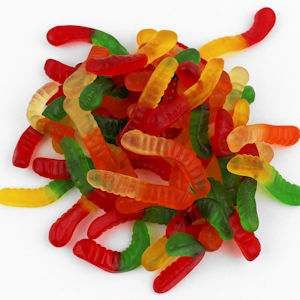 According to Nationaltoday.com back in 1981 the creative marketing minds at the German confectioners Trolli came up with the idea of the "National Gummi Worm Day" to compete with the already popular gummi bear.
The gummi bear originated in 1920 in Bonn when Hans Riegel began making candy in his kitchen. That endeavor would become HARIBO. "HARIBO produced soft, fruity gelatin dancing bears that evoked entertainment at European Circuses and festivals," according to NationalDay.com.
Back at the other candy camp, Trolli wanted to give kids something that had a gross-out factor they could play up with their parents, hence the gummi worms. Some gummi candy historians (yep you read that right), say that Trolli introduced the gummi worms intentionally on the anniversary of the birth of the bears in Bonn on July 15.
After the bears became popular, there were other gelatin candies in other shapes, but nothing could beat the bears until the worms emerged. So Trolli celebrated their success by giving the worms their own special day.
Reminiscent of the gross-out factor Trolli made a crazy decision to produce some gummies in what one might call questionable shapes – roadkill. There were squirrels, chickens, and snakes with tire tracks giving evidence of their demise. Hmmmmm!
By this time Kraft Foods had bought the Trolli U.S. brand and, of course, Kraft had to take the roadkill product off the market the next year in response to consumer protest.
Today, gummi worms are sweet and sour. They can be dual-color and dual-flavor. They can be found in ice cream, frosting, used to make vodka shots, and much more. In whichever form they can be found or enjoyed these little worms are a key part of the global gummi and jellied candy market that is predicted to reach $40 billion between 2020 and 2024.